Amenities
MEALS
All meals are served in the Dining Room.
Continental breakfast
Lunch buffet
Dinner buffet
Snacks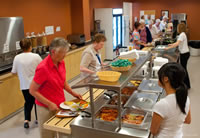 All menus are planned by a red-seal chef and prepared in collaboration with a dedicated kitchen contingent. They take great care in ensuring the meals are interesting, varied and accommodating for many different tastes.
Meals are available at a reasonable cost for guests who are always welcome.
There is also a small convenience store located near the reception desk where you can purchase snacks.